Host Software
Environmental Index
Our Environmental Index provides a simple and effective solution. Starting with temperature as a key component of comfort, the Environmental Index, expressed as a percentage, reflects how close the zone temperature is to the effective heating and cooling setpoints. Accessed through a browser using WebCTRL®, the Environmental Index is shown on an easily read analog gauge, using the red segments to indicate poor environments, and graduating to green as conditions improve and the Environmental Index begins to approach 100%
>>For specifications, view this pdf file.
WebCTRL: Powerful and Intuitive Front End for Building Control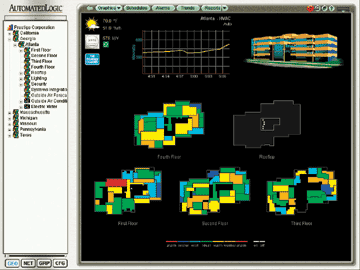 WebCTRL is a premier building automation system, offering an intuitive user interface and powerful control features. WebCTRL can be accessed from anywhere in the world through a standard web browser, without the need for special software on the workstation. Through a browser you can access all building management functions including:
set and change schedules,
adjust setpoints and other control parameters,
graphically trend important building conditions
view and acknowledge alarms and events, and
run preconfigured and custom reports on energy usage, occupant overrides, tenant billing, and much more. (With WebCTRL's spreadsheet-style report generator, you can write your own reports with ease.)
Developed entirely around proven open standards and web-based technologies, WebCTRL's server software will run on many different platforms, including Windows, Sun Solaris and Linux. Major databases are supported by the server, from single user Microsoft Access to industrial strength MS SQL Server, Oracle and MySQL.

>>For a brochure, view this pdf file.
>>For a cut sheet, view this pdf file.